About two years ago, when people were caring so much about cancer awareness that they were spending twenty dollars on eBay to score a yellow rubber bracelet, I had this nightmare that all of a sudden people were wearing bracelets of all different colors. Red! Blue! Green! Purple! Burgundy! Mauve! It was awful!
That was the only time one of my nightmares came true.
Thankfully, Bracelet Craze has settled down. I think the college-aged
fashionistas
philanthropists realized that convenience stores were selling them. (Cancer awareness is so
not
about being convenient.)
But now I have to deal with this: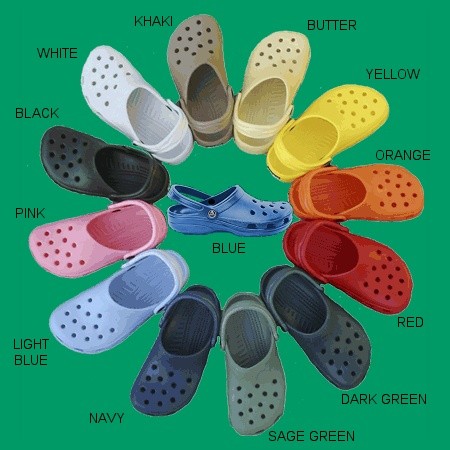 I think someone took all of those leftover bracelets and designed the DUMBEST SHOE EVER MADE. EVER.
I don't get it, America. WHY are people wearing these shoes? They must feel like your feet are having orgasms because there is no other rational reason to wear rubber clogs.
In my quest to understand, I went to the shoe's website to read some testimonials. Here are my favorites:
We were once a 'TEVA' family and posed together in tevas, and now we are a "Crocs" family! :)

Scott Mohan
Lakewood, CO
Once I discovered you make my favorite shoes in white, how could I not purchase them to wear at my wedding?! I knew I was going to be on my feet all day, wearing heels for at least 6 hours. I needed something comfortable to dance in and your shoes fit the bill. I was able to dance all night thanks to your fabulous shoes! I've attached a picture my photographer took of my crocs and bouquet. I hope you enjoy my picture as much as I enjoy your shoes.

Beth Cauwels
Roseville, MN
I live in Crested Butte, Colorado where November through March, there is snow on the ground.Thisfall,I was sad thinking of having to put up my Crocs for the winter. I am sad no longer because I discovered that my Crocs can be used almost year round. I decided to try my new Crocs I got for Christmas on my stroll to the post office about 6 blocks away. To my excitement,my Crocs were great on the ice and hard pack. The soft sole allowed me to grip with my toes and I didn't even slip once. I even watched a girl slip and fall in Uggs and I walked right by her! The holes in them would make them not very useful when it has recently snowed, but since our town plows regularly, I found them to be quite pleasant. Theyalso aren'tthe warmest but with thick socks, you can barely feel the cold. I am psyched that I can wear the most comfy shoes every year round inour harsh, but beautifulclimate.

Kim Elliot
I learned about crocs from my roommate who is also my fraternity brother in Sigma Phi Epsilon. Since then I as well as about twenty of my fraternity brothers and some of our sorority sister friends have purchased different colored crocs. We each have different colors and crazy names to go along with them. They are AMAZING shoes. We wear them to shower, walk around, and some of our brothers even wear them for "nights on the town" and formal events to match their suits. @ One of our events on the beach, we all wore them to protect our feet from the shells and to prevent us from slipping on the boat. To our surprise, the boater that came to pick us up even had pink crocs, we were stunned. The fad has OFFICIALLY taken over Tampa Bay. I see them everywhere, airports, events, beach, etc. I LOVE CROCS!

Patrick Alberts
Tampa, FL
I still don't get it. But I do get
this
, and I APPRECIATE IT.